Following renewed controversy and community discussion in recent weeks, a Northwest Austin hotel property is moving toward reopening as housing for people exiting homelessness.
The Pecan Gardens complex at a former Candlewood Suites hotel, located at 10811 Pecan Park Blvd., Austin, is expected to provide 78 permanent housing units and supportive services for individuals with disabilities over age 55 who have a history of chronic homelessness. On May 19, Austin City Council voted to negotiate a $3.9 million contract with Family Eldercare that will fund rehab work, such as the conversion of hotel rooms into one-bedroom apartments, interior redesigns and outdoor landscaping.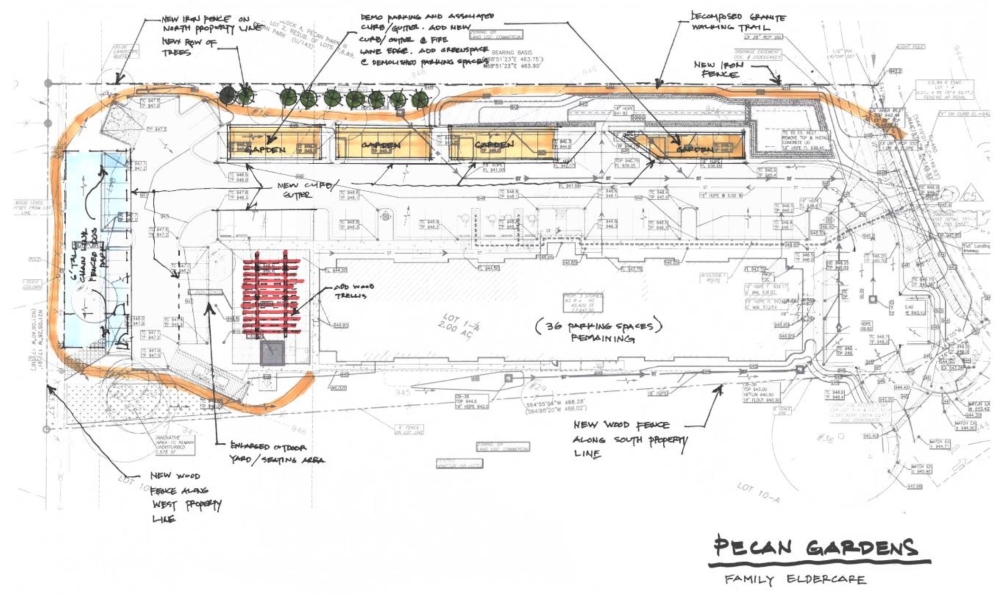 Austin's plans to open Pecan Gardens have generated controversy in the year-plus since they were announced. The old hotel is located within Austin's City Council District 6 in Williamson County, and both city and county officials have continued a
back-and-forth discussion
on the merits of the project and the city's process over time.
Williamson County leaders have repeatedly
criticized
Austin for a lack of communication about the project before the city's $9.55 million
purchase of the property
. Days after council's approval of that deal last August, Williamson County commissioners went on to
authorize a lawsuit
against the city over the issue. A county spokesperson confirmed that, as of this month, no lawsuit has been filed.
Break-in response, renovation planning continues
Since the purchase last year, the Candlewood Suites building has sat vacant awaiting renovations. The facility once again drew scrutiny at the city and county levels earlier this month following a break-in at the hotel, which prompted responses from elected officials and a May 16 community meeting. City representatives
said
the incident has resulted in cleanup work, multiple staff follow-up visits to the hotel and increased security.
"For one reason or another upon purchase of this property, as we have seen in the past few weeks, there have been massive failures that have caused serious security concerns," District 6 Council Member Mackenzie Kelly said.
Routine security had been planned for the site before the break-in, although staff said that update never took place due to a processing delay. The site is now secured with an on-site guard and regular patrols.
Several area residents, including employees of hotels and restaurants located near the former hotel site, expressed concern over the recent criminal trespassing incident as well as people experiencing homelessness residing in the area at the May 10 Williamson County Commissioners Court meeting. County Judge Bill Gravell said the hotel conversion plans have resulted in "chaos and anarchy" in the area given the break-in and the presence of a homeless encampment nearby.
"It is just beyond comprehension to me that the city of Austin would buy a homeless hotel, say they are retrofitting it, but yet do nothing with it, and then allow homeless people to break into it and use it," Gravell said May 10.
So far, Williamson County commissioners have not taken any action regarding the property this month.
Austin City Council's May 19 vote to move the contract process along came with additional directives from Kelly, who opposed the purchase last year and has spoken out about the break-in and disconnect between the city and community this month. Kelly moved for council approval of negotiations only—the contract was initially listed for possible approval—with additional
directives
related to safety at the site.
"Many in our community expressed concerns related to security at the property. I also have had many concerns about this property with ongoing miscommunications not just with the community, but also with our own city staff," she said. "Due to these concerns, I cannot see a clear pathway forward without clear and concise direction from council that rectifies our current problem and helps to rebuild the trust and transparency we should always try to achieve in the city of Austin."
Before a unanimous vote for Kelly's motion, multiple council members said they shared concerns about the break-in and the overall stewardship of city-owned properties. The contract with Family Eldercare could return to council in June for final approval.
Once launched, Pecan Gardens will add to Austin's growing portfolio of former hotels and motels converted into either shelter or permanent housing. The Northbridge and Southbridge shelters off I-35 have welcomed more than 150 people formerly experiencing homelessness through the city's Housing-Focused Encampment Assistance Link
initiative
over the past year. And three hotel facilities either owned or partially funded by the city, including Pecan Gardens, could open as supportive housing complexes by late 2022.